Title: "Strength in Numbers"
Size: 28' x 20'
Mixed media: Wood, auto paint, oil paint, latex paint, graphite
Location: Indiana University Health Neuroscience Center, Indianapolis, IN
These boxes push into public and personal space. As human beings we build spaces (boxes) to live in, to shelter our cars, we work in cubicles, we put our children in cradles and ultimately we are put to rest in a box. We tend to separate ourselves from nature—from the sometimes-hard reality of living. We separate ourselves from the weather, from the earth, from each other and the joy these things can bring.
My hope for this large-scale, site specific, painting and sculpture installation is to push the viewer to step outside of our mental and physical constructs. The shiny surfaces sparkle like sunshine and water, the mat paintings evoke nature and place, and the multiples create comforting geometry. These familiar things combined with the large scale intend to be uplifting. I hope it naturally compels viewers to slow down. With time spent observing the artwork and enjoying the space the viewer will discover many intentional gifts.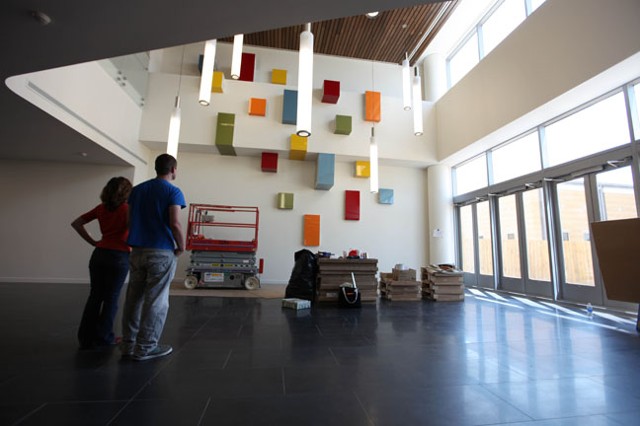 "Strength in Numbers"
Interested in hiring me and my team of resources for your public art project please email me at Katrina@KatrinaJMurray.com!

More about this project at:
|https://www.codaworx.com/profile/katrina-murray/2569|
Mixed media: Wood, auto paint, oil paint, latex paint, graphite
28' x 20'
2012