About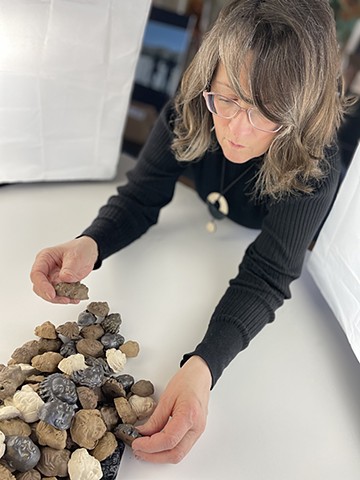 ARTIST STATEMENT and BIO
Educated at Herron School of Art and Design in Indianapolis Indiana, Katrina Murray graduated with a major in painting a minor in art history and studied for a time in Italy.
Murray lived for over three years in Germany (Deutschland) during the mid 80s. While there, fallout from the Chernobyl atomic reactor meltdown blaze in 1986 drifted into West Germany where she lived. In that time too, demonstrations against the "American occupation" took place during the birth of her youngest daughter, forcing the birth to take place in a German hospital rather than in a hospital on a military base where her, then, husband was stationed. Murray found herself in a hospital room with two other mothers. All three spoke different languages but had the same needs. This poignant experience made a lasting impression on her.
Murray began her current work after her son was killed in the Iraq war by an IED in 2005. Murray went back to college (Herron School of Art and Design) to use art to heal emotionally. Learning a new way to live with her pain.
Through the use of ceramic, collage, and found objects, as well as humor and confrontation, she invites us to reflect on how we, individually and as a society, weigh our political views on the issues that divide our country – such as gun laws, women's reproductive freedom, and LGBTQ and racial equality – against the greater human consequences. Murray's experiences with bias, both personally-held as well as observed, have shaped her artistic investigation of the differences and similarities between us.
Murray is a cross disciplinary, conceptual based artist with a deep interest in the emotional and physical human condition. She explores ideas around human nature, power, and vulnerability, focusing primarily on the way we frame our sense of self regarding current cultural discourse.
A native of the historic arts area of Brown County, Indiana, Murray now lives and works in Indianapolis, IN.
Collections of note:
Eskenazi Health, IU Health Neuroscience Center, Community North Hospital, Indiana Humanities.
Selected Exhibits & Experience:
2022 This is us (Solo Exhibit), Gallery 924, Indianapolis Arts Council, Indianapolis, IN
2021 Sum of Unity, Curated By Samuel Levi Jones, Eleanor Prest Reese Gallery - Herron School of Art & Design, Indianapolis, IN
2020 Pandemic Research Interactive Exhibit (Ceramic Portraits) (Solo show), Schwitzer Gallery, (CCIC), Indianapolis, IN
2016 View from Within, Mark Borghi Fine Art/Keyes Art Consulting, New York, NY
2016 Asphaltum (Artist & Curator), Schwitzer Gallery, (CCIC), Indianapolis, IN
2015 Performance art collaboration, Music & Mark Making, Independent Music + Art Festival
(IMAF), Indianapolis, IN
2015 Hoosier Salon vs. iMOCA, Indianapolis Museum of Contemporary Art, Indianapolis, IN
2016 & 2014 Art from the Heartland, Biennial, Indianapolis Art Center, Jurors: Mindy Taylor Ross and Sarah Urist Green, Indianapolis, IN
2016 Rock, Paper, Hammer (2 person show), Schwitzer Gallery, (CCIC), Indianapolis, IN
2012-to 2015 Painting Instructor, Herron School of Art & Design's Creative Learning Program, Indianapolis, IN
2014 Speaker, SOFAexpo for Codaworx, Topic: IU Health Neuroscience Public Art Installation, Chicago, IL 2011
2011 Artist Assistant, Expedition Bogota-Indianapolis, Danielle Riede and Alberto Baraya, Indianapolis Museum of Contemporary Art (iMOCA)
2011 Attended the Venice Biennial, Venice, Italy,
Selected Awards & Grants:
2020-21 Creative Renewal Arts Fellow of the Arts Council of Indianapolis, IN
2017 Award of Excellence - 119th Annual Exhibition by Richmond and Area Artists, Richmond Art Museum, Richmond, IN
2011 International Experience Scholarship, Study abroad, Italy